While I am spending my quarantine in one of Brisbane's hotels, I decided to write a feedback about YOGO Foldable Yoga Mat for all the people out there looking for the perfect travel yoga mat. I do hope Covid-19 will be over at some point, so we all can enjoy traveling and just being outside again.
My Yoga journey started more than ten years ago, and I moved around a lot since then. I've used all kinds of yoga mats, but for my trip to Nepal after reading multiple reviews and watching videos on YouTube, I decided to buy YOGO Foldable Yoga Mat.

I've been using it for about four months, so now I can see all the pros and cons of this mat.

Below are my thoughts on the YOGO mat features.

Weight

The mat weighs 2.1 lbs (0.95 kg), so it's very light.

Is it durable?

Yes, I've actively used it for at list four months on different surfaces. It went with me to the mountains, the beaches, the hotels, a few houses, and it's not damaged in any way so far.

Cushioning

As you can see from the picture below, the mat is super thin.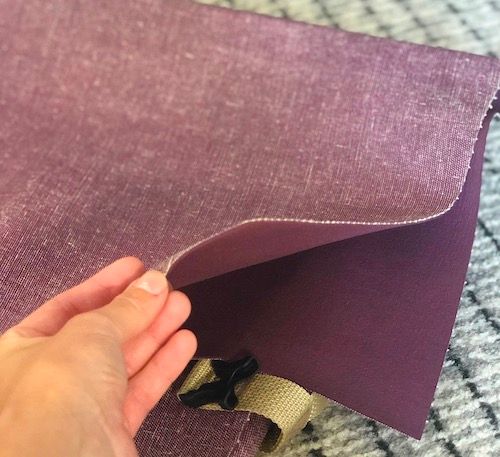 It's both it's power and weakness. When practicing on hard surfaces, some poses might not be as comfortable. I generally don't mind this and, for example, use an extra bit of clothing under my knee for a softer feel.

Grip and Stickiness

The YOGO mat has a stellar grip and sticks well on the variety of surfaces. I've tried it on stone, wood, linoleum, carpet, grass, and sand, and it was comfortable to practice.

I also have super sweaty palms and even feet sometimes and usually just struggling in a downward dog for a proper grip but I don't have this issue with YOGO. Notably, I haven't tried it for hot or Bikram yoga yet.
Is it easy to wash?
Yep, I've washed it several times in the washing machine. It looks like new after and dries pretty quickly.

How does it fold?

I think this is the most glorious thing about the YOGO mat. It folds in a small roll.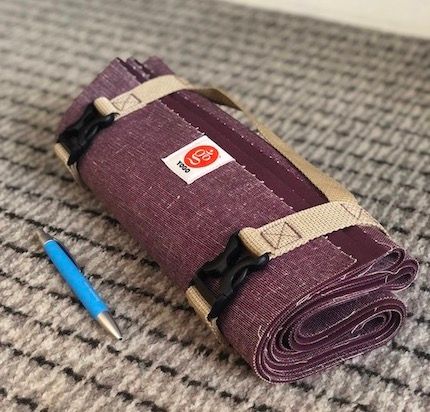 I can take it anywhere. It fits in my smallest day back and my everyday bag! This alone encouraged me to have so many spontaneous yoga sessions as I can carry it with me at all times.

Is it sustainable?
Yes, the mats are made with natural rubber tapped from a tree.
YOGO also plants a food-bearing tree for every mat they sell.